If you want to apply edits to an issued virtual card, you must search for it in ICD.
Note: You must know the account code and customer ID used specifically for virtual cards in order to initiate a search.
1. On the ICD home page, select Manage > Cards > Search Virtual Card.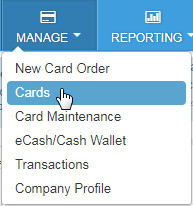 We are sorry that this page was not useful for you!
Let us improve this page!
Tell us how we can improve this page?