Comdata ConnectPay offers the ability to consolidate your payment methods into one electronic payment platform. In addition to virtual payment processing, ConnectPay supports other payment types including ACH, wire, check, and international (SWIFT, IBAN, ACH international).
Comdata will work with you to install ConnectPay on one of your computers and integrate it with your ERP systems. Once integrated, you can begin uploading payment files via
ConnectPay's secure FTP client. Depending on how your vendor is set up to be paid in your ERP, ConnectPay will process the payment for you. For example, if you have vendors set up to be paid via checks, ConnectPay will take your payment information and print a check with the details needed for processing.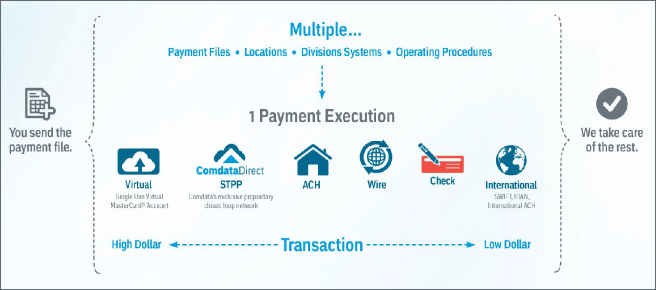 Integration Steps
Your Comdata TRR will provide the necessary FTP credentials (user ID and password). In order to set up ConnectPay, ensure the following steps have been completed:
Complete and provide the following items to your Comdata Project Manager:

ConnectPay Automation Worksheet
IP address for computer that will transfer files via secure FTP
Determine payment types your company will use (virtual, ACH, Wire and/or check)
Have your IT department set up a generic mailbox where copies of ACH or virtual payments remittances will be sent, depending on your chosen payment type

Test secure FTP connection to Comdata ConnectPay
Begin sending the following files through ConnectPay's integrated FTP client:

Signature/Logo Digitization Authorization
Company Logo
Voided Check
Bank Specifications
Checkbook Data Sheet (complete for checkbook from which you will be issuing checks)

Review and approve:

Check layouts
Virtual Payments Remittance Emails
ACH Remittance Emails

A Comdata TRR will provide your ConnectPay user ID and password and install ConnectPay on your machine through GoToMeeting.
Complete file transmission and sign off on live PS20 payment file, PS21 response file (optional), and AC28 reconciliation file (optional).
We are sorry that this page was not useful for you!
Let us improve this page!
Tell us how we can improve this page?