The user ID drop-down in the top right corner of the ICD home page contains specific options for managing your ICD account, such as:
Copying and deleting users, if you have Administrator access.
Resetting your ImageKey, ImageKey Captions, and security questions and answers.
Editing or deleting authorized codewords through Codeword maintenance.
Updating your contact information (email and mailing address).
Setting up email notifications on credits and invoices.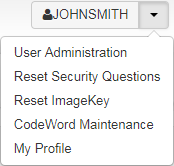 We are sorry that this page was not useful for you!
Let us improve this page!
Tell us how we can improve this page?