Follow the steps below to reset the PIN (Personal Identification Number) on a card. A PIN is also known as the Driver ID.
1. On the ICD home page, select Manage > Cards > Card Maintenance.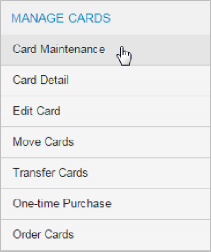 2. Select Pin Reset from the left-hand navigation bar.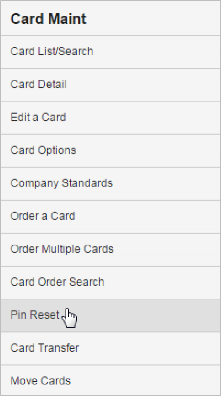 3. On the Pin Reset page, enter the appropriate card number, employee or vehicle number and then select Search.
Note: If you do not know the specific card, employee, or vehicle number, select View Card List to locate the card on the Card Listing page.
4. The page refreshes to display the account number, customer ID, card number, and first and last name of the cardholder. You will be asked to confirm that you want to clear the PIN for the selected card. If the information displayed is correct, select Yes. If not, select No and search for the correct card number.
5. The page refreshes and displays a message confirming the PIN has been deleted.
Inform the cardholder that they must immediately set up a new PIN by calling the Comdata Interactive Voice Response (IVR) system at 1-800-741-6060. The cardholder will need to follow the IVR's instructions to reset their PIN.
Select Return to Card Detail Screen to open the Card Detail page.
We are sorry that this page was not useful for you!
Let us improve this page!
Tell us how we can improve this page?