The Express Check Maintenance – Display Code Activity function enables users to view all activity that has occurred for an Express Check code.
1. From the main navigation bar, select Manage > Express Check > Display Code Activity.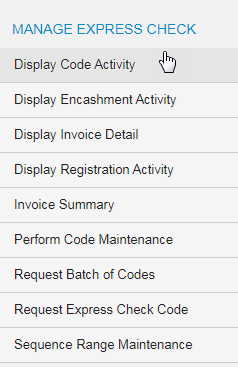 2. The Display Code Activity page opens:
Select a different account code or customer ID, if necessary.
Enter a Sequence Number and click Submit.
3. The page refreshes to display the following details:
The information you defined when you generated the Express Check code under the Retrieve Code page.
The original amount, amount used, and balance.
A list of all transactions sorted by date and time.
4. Select a link in the Control Number column to view the Order Event Display page. This page contains additional transaction details, such as the check number and amount.
5. Select the View Check button to view a Comchek draft image. You can view the front and back of the Comchek as well as print it. Note that this button will display only after the check has been cleared. Pending will display if the check has not been cleared.
We are sorry that this page was not useful for you!
Let us improve this page!
Tell us how we can improve this page?