Follow the steps below to order a Comdata card.
1. On the ICD home page, select Manage > Cards > Order Cards.
2. If you have multiple customer IDs, the Card Maintenance page will display with a message stating that you must select a customer ID in order to proceed. Make your selection. If your account code only has one customer ID, skip to step 3.
3. On the Order a Card – Step 1 page, ensure the correct customer ID is selected. Then, click Continue.
Note: If you need to apply a company profile to the card being ordered, select Order a Card from the left-hand menu bar. The Company Profile field will then open for editing.
4. On the Order a Card – Step 2 page, enter all information needed to accurately issue your card. Fields denoted with a red asterisk are required.
Use the radio buttons to select whether the card will be shipped to the address for the selected customer ID, account code, or a different address. Click Confirm at the bottom of the page when ready.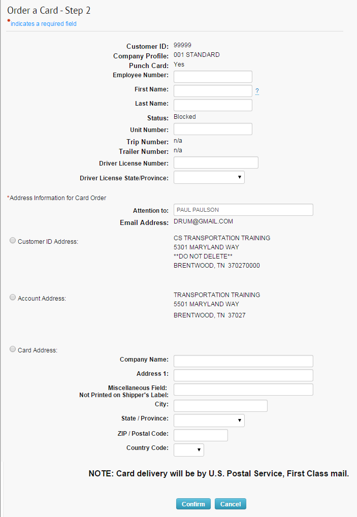 5. In the Confirmation window, click Continue to complete your order, or click Back to close the window and edit your order.
6. If you click Continue, the Card Order Confirmation page opens, displaying all details on your card order, including the full card number. Review and verify that the information is accurate. Click Edit to open the Edit a Card page and edit details on the card, click Add to place another order, or select Return to return to the Card Maintenance page.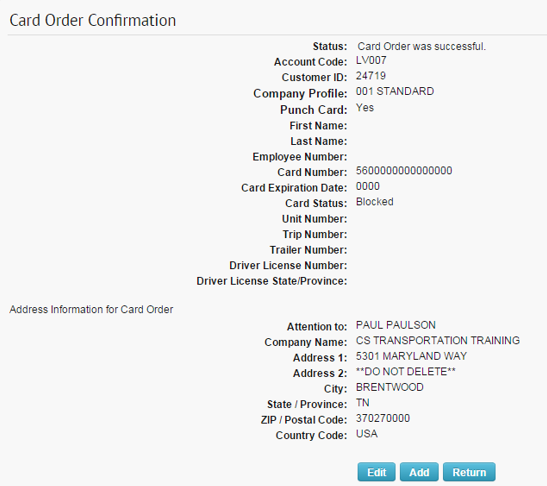 We are sorry that this page was not useful for you!
Let us improve this page!
Tell us how we can improve this page?