Follow the steps below to order a Comdata Mastercard.
1. On the ICD home page, select Manage > Cards > Card Maintenance.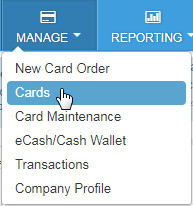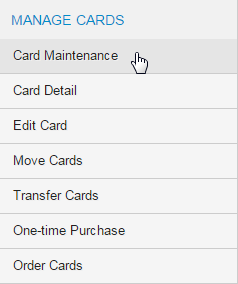 2. On the Card Maintenance page, select an account code and customer ID for which you would like to order a new card. Then, select Order a Card from the left-hand menu.
3. On the Add a Card page, select an available Purchasing Profile Number. Use the Punch Card Options radio buttons to select either Punch Card (physical card) or Ghost Card (non-physical card). Select Continue when ready. For this example, we selected Punch.
4. On the Add an Employee Card page, complete each of the required fields denoted by a red asterisk. Note that some fields will display different or be unavailable to edit based on configurations made by your company Administration.
Note: If you selected Punch, the information will be punched on the card and programmed into the magnetic stripe. While some fields can be changed, the values entered in the First Name and Last Name fields will be embossed on the card.
Note the following fields related to card shipping.
Field
Description
Attention To
The person or entity receiving the card order.
Delivery Method
Select a delivery method. Depending on your preferred delivery vendor, options include:

Fedex Two-day (2nd Day Air)
UPS 2nd Day
Fedex International Priority
UPS Ground
Fedex Priority Overnight
UPS Worldwide Expedited
UPS Next Day Air

Note: If you select an expedited shipping method (Fedex Priority Overnight or UPS Next Day Air), you must accept the associated card fees. In addition, any next day order must be placed by 10:45 AM Central Standard Time for the order to meet next business day delivery. You cannot place expedited orders for P.O. box addresses.

Customer ID Address
The address associated with your selected customer ID, if available.
Account Address
The address associated with your selected account code, if available.
Card Address
Enter a custom address using the fields below.
Company Name
Enter the name of the company receiving the card order.
Address 1
Receiving company's street address.
Miscellaneous Field not Presented on Shipper's Label
Enter any discretionary information the shipper needs to know. This information will not print on the shipping label.
City
Receiving company's city.
State/Province
Receiving company's state/province.
Postal Code
Receiving company's postal code.
Cardholder Usage Delivery Type
Select how you would like to receive a Cardholder Usage report for this card. Options include: Email, Print, Default (your default account setup).
Cardholder E-mail Address
Enter the cardholder's email address.
CC E-mail Address
Enter any additional email addresses that need to receive the Cardholder Usage report.
Comdata Alerts and Notifications: If the selected customer ID is set up for Comdata's Alerts and Notifications program, an Email Notifications and Mobile Alerts checkbox display at the bottom of the page. Select Mobile Alerts and complete the Mobile Number and Cardholder E-Mail Address fields to enroll the cardholder. Be aware that both fields require valid entries (Mobile Number: 10-digits, Cardholder E-mail Address: valid email, ex: user@domain.com). You can enter a country code in the Mobile Number field after the first save.
5. The Card Add Confirmation page displays, containing all details on your card order. Note that the full card number will display on this page. The new card should arrive in 3 to 5 business days.
Select Edit to open the Edit an Employee Card page and apply edits to the card. Select Add to place another order.
We are sorry that this page was not useful for you!
Let us improve this page!
Tell us how we can improve this page?