The Express Cash Maintenance – Company Activities function enables users to review the Express Cash activity for all primary company cards for a specific time period.
1. From the main navigation bar, select Manage > eCash/Cash Wallet/OnRoad > Company Activity List.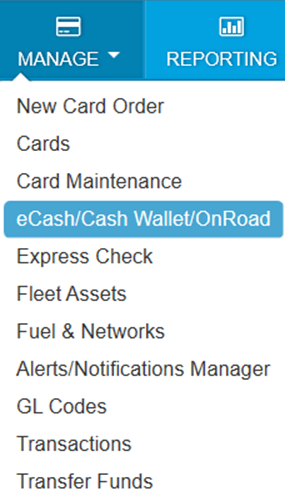 2. The Account Activity page opens. Complete the following:
Select a different account code or customer ID, if necessary.
Enter the date range to set the review period. Then, select Submit.

Note: The date range is limited to a maximum of 14 months.
3. The page refreshes to display all account activity for the selected date. Review the information as needed. Select Complete to return to make another selection.
| Field Name | Description |
| --- | --- |
| Date | Date of transaction |
| Time | Time of transaction |
| Ref Nbr | Reference number assigned to the transaction |
| Amount | Transaction amount |
| Charges | Charges applied to the transaction and whether these are P (invoiced to your company) or L (deducted from the Express Cash balance). |
| Card Num | Primary Card Number |
| Holder Name | Full name of the primary cardholder |
| Sender | Name of person that loaded money to the card, code or location where the transaction occurred |
| Completion | Date and time the transaction completed processing |
| Desc | Transaction type; LOAD, SUBT, CNCL, PURC (fuel), or CASH (ATM) |
We are sorry that this page was not useful for you!
Let us improve this page!
Tell us how we can improve this page?