The Express Cash Maintenance – Reference Number Display function enables users to review the Express Cash balance for a particular reference number and date. The reference number does not indicate whether the transaction was made with a primary or secondary card.
1. From the main navigation bar, select Manage > eCash/Cash Wallet/OnRoad > Reference Number Display.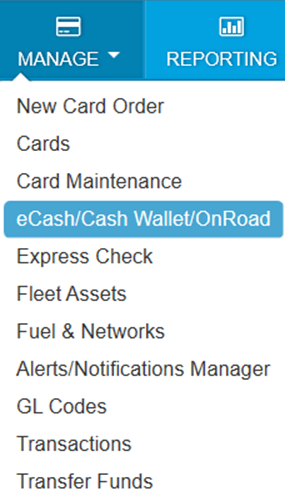 2. The Reference Number Display page opens. Complete the following:
Select a different account code or customer ID, if necessary.
Enter the date the transaction occurred in the Order Date field.
Enter the reference number you want to review and then select Submit.
3. The page refreshes to display the card or employee number that contains the loaded funds as well as the cash balance for the Reference Number and the Date Requested.
The Misc Data field may show details of funds (the load) added to the card.
We are sorry that this page was not useful for you!
Let us improve this page!
Tell us how we can improve this page?