What is iConnectData?
iConnectData (iCD) is a secure, self-service web portal for performing account management, such as accessing reports, pulling invoices, accessing product documentation, and much more. The features in ICD are designed to provide self-service account management, which can reduce the need to contact Customer Service for assistance.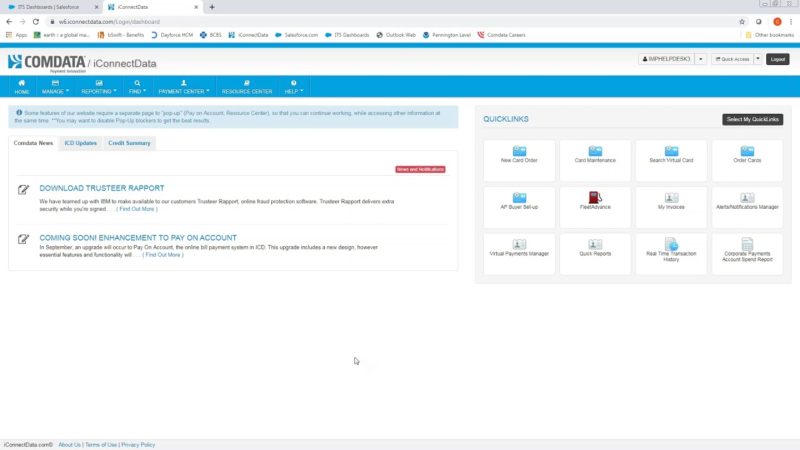 ICD offers safe, simple, and intuitive navigation of the web portal. To protect your security, you must select an image, security questions, and a password to initially log in to ICD. The image appears anytime thereafter you log in to verify that you have reached the secure site. Security questions only appear if you have forgotten your password and passwords must meet the minimum strength requirements, 8 characters, 1 number, 1 upper and lowercase character. They must also be changed every 30 days to further secure your account(s).
The homepage's navigation bar contains access to all of your account management options and you can use the QuickLinks tool to set up links to your favorite features. From the navigation bar you can:
Manage. Covers program tasks such as user profiles, card maintenance, transaction maintenance, GL coding, and Express Checks.
Reporting. Links you to reporting options including Business Intelligence and reportQ.
Find. Links you to the ATM Locator, SmartBuy, and other location tools for solutions.
Payment Center. Takes you to account information, payment options, and invoices.
Resource Center. Your source for up-to-date product documentation and educational resources.
Help. Links you to Classic ICD and Feedback option. Use Feedback to report any technical issues you experience in ICD.
Contact a Comdata representative to set up your account for ICD and begin managing your cards, viewing reports, making payments, etc., from one easy to use web portal.
Fleet industry managers
Owner-operators
Program administrators
Key benefits include:
Quick and easy self-service.
Accessible 24 hours a day, 7 days a week, 365 days of the year.
Detailed reports for account activity, spending, card statuses, and more.
Easy access to the Resource Center full of helpful information about our products and how to use them.
We are sorry that this page was not useful for you!
Let us improve this page!
Tell us how we can improve this page?