What is a Virtual Comchek?
The Virtual Comchek is a one time use virtual card. With Virtual Comcheks you can send cards via email through iConnectData (ICD).
If you have a Comdata account, you can use Virtual Comcheks to disburse money to your drivers. Your drivers use the Virtual Comchek to pay for expenses while on the road, such as lumper services, repairs, fuel, and fines. Use Virtual Comcheks as a flexible funds transfer service when a Comdata card isn't available or suitable for a payment situation.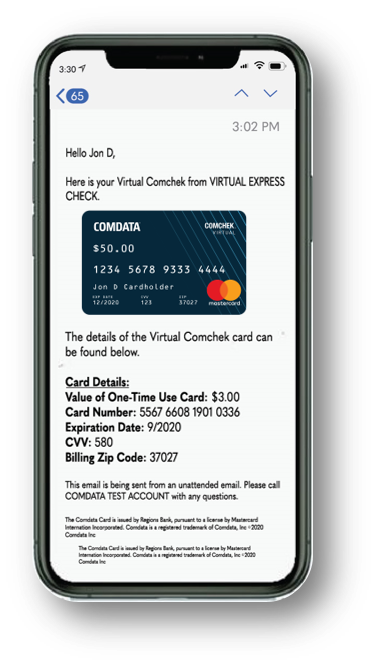 A fleet will initiate the Virtual Comchek Card in ICD, similar to what they are currently doing today. The fleet defines if the card must be used for an exact amount or "Up to" the created card value. The fleet also defines if it is open to use at any Mastercard location or a limited set of MCC's.
The driver receives the dynamic card image by email. This image will provide the card #, the dollar value of the card, zip code, CVV or card verification value (the 3 digits on the back of your credit card), and the name on the card.
The driver gives the details to pay for Over the Road (OTR) services, and the Virtual Comchek can be accepted at any Mastercard location. The fleet then gets a rebate based on the monthly amount spent, which is paid one month in arrears.
Virtual Comcheks are available for anyone in the fleet industry that needs to pay for a product or service, such as fleet drivers, carriers, and owner-operators.
Key benefits include:
Minimize costs with managing check costs, check fraud, and labor.
Easier and faster to process than paper checks thanks to automated processing and reconciliation.
Reduce the risk of check fraud and gain security of single-use cards that are locked down using system controls.
Frequently Asked Questions (FAQs)
We are sorry that this page was not useful for you!
Let us improve this page!
Tell us how we can improve this page?